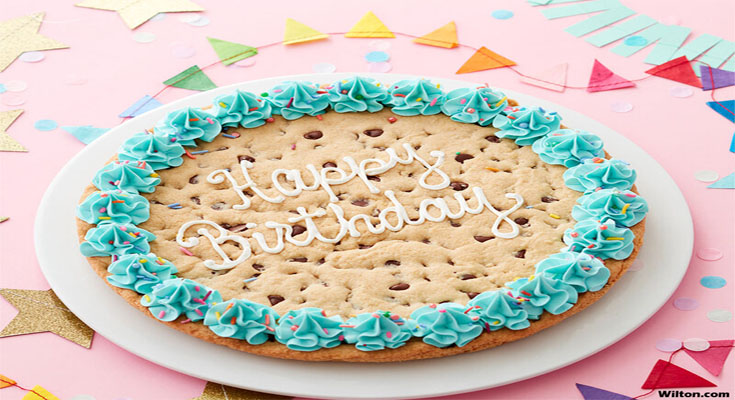 When I asked soon-to-be 12 years old Ryann what sort of birthday cake she wanted she said, "Either a cookie cake or a chocolate cake". After deliberating which to produce, I chose both! I topped a chocolate-chip cookie cake using a rich chocolate cake, topped all this with chocolate buttercream frosting and, of course, birthday candles!
Unlike my pal Marianne Getz (Wolfgang Puck's pastry chef), I am NOT an excellent baker. However, I believe that Birthday Cakes needs to be made in your house, with love, instead of commercially made so…I caused it to be myself…using mixes! Plus, rather than wasting $3.99 for the pre-made decorative colored frosting, I spent $.99 on white frosting and improvised. Unless you are getting fancy, you can do it my way utilizing the vanilla frosting, food coloring, convection a baggie!
Here's what to buy:
1 Krusteaz Chocolate Chunk cookie mix
1 Betty Crocker Devils Food Cake Mix
2 large tubs Betty Crocker Rich and Chocolate Buttercream-Style Icing
1 regular tub Betty Crocker Rich and Creamy Vanilla Frosting
All ingredients to generate the cookie and the cake mix; eggs, oil, etc.
1/4 cup confectioners sugar
food coloring for decorative writing and edging.
Directions:
Preheat the oven to 375-degrees and grease the bottom of two 11 x 13 non-stick pans.
Make the cookie dough based on the box directions and spoon to the pan. Wetting your hands with regular faucet water, flatten the dough evenly through the bottom of the pan. Put in the preheated oven.…
Birthday Cookie and Cake Recipe

READ MORE