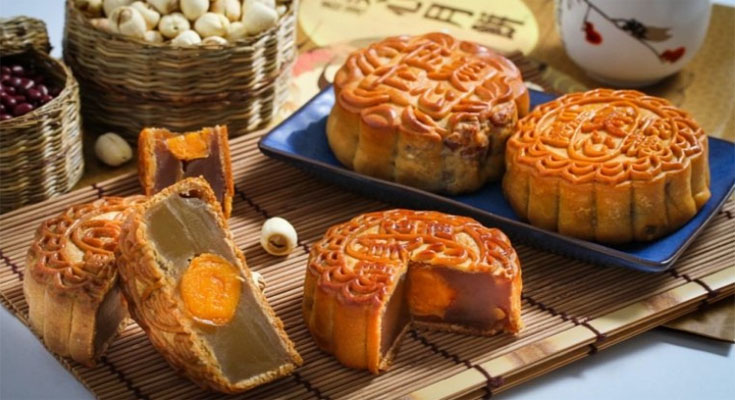 Moon cakes are made during the 8th month of the lunar Chinese calender. The actual date for celebrating the festival is on the 15th of the 8th month of the lunar Chinese calendar. Usually wooden moulds are used for making moon cakes. Nowadays plastic moulds are used because it is much cheaper. There are many designs on the mould. It can be bought at any shops selling ingredients for cakes.
Ingredients:
Syrup:
1/2 kg sugar
1 1/2 cups water
2 slices lemon
Boil the syrup for about an hour until it turns golden test whether it is ready, pour a tbsp of syrup in cold water. If it separates it is ready. If it turns into a ball, the syrup is too thick. Add more more done, keep in a cool place for 2 weeks before remaining syrup can be kept for future use.
Pastry:
350-400 g wheat flour
60 g golden syrup
50 g oil
1 tsp alkaline water
Method:
Prepare the pastry: Mix all the pastry ingredients in a bowl. If it is too soft, add in more flour. It should be soft but not stick to the fingers. Divide into 6 portions. Each portion about 50 g. Let it rest for at least an hour.
Filling:
500 g red beans (wash and soak overnight)
500 g sugar
200 ml oil
1 tsp vanilla essence
50 g pumpkin seeds (locally known as 'kuaci')
Cook the red beans till soft and dry. Blend red bean in a mixer while
…
READ MORE