Few things are more satisfying than a cup of smooth, cold sorbet on a warm and relaxing day. I love to make and eat sorbet, but there is a potential downside. Unlike ice cream, sorbet has neither fat nor lactose; but just like ice cream, sorbet has lots and lots of sugar. When making sorbet, in order to get a consistently creamy texture, I would sometimes add up to one full cup of sugar for every cup of juice. Of course, the amount I added depended on the juice I was using, but that is still too much sugar. Now that I am trying to eat healthier, I have turned to a low sugar alternative.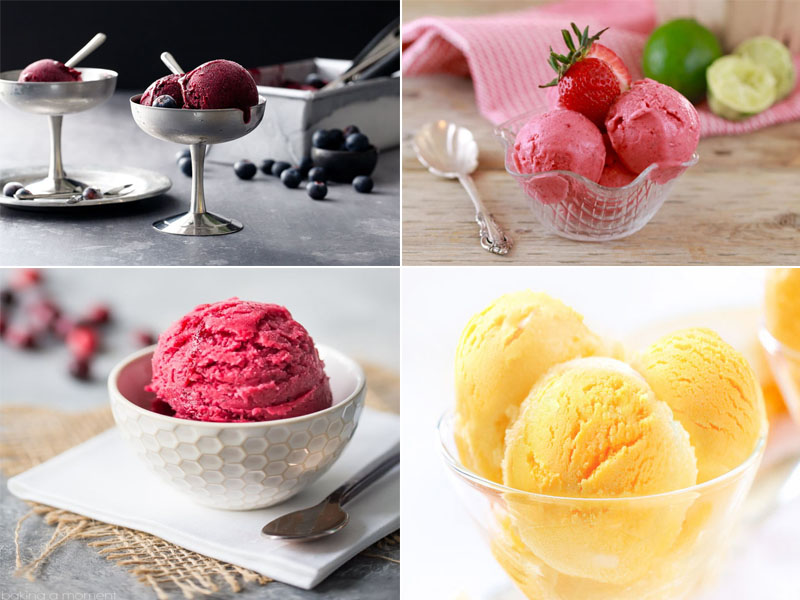 Being on a low sugar diet, I decided to look at my local grocery store for sorbet that had reduced sugar content. Not only was the sugar levels similar to what I had been making at home, but there were other additives. Many of which I had not encountered since chemistry lab in college! The solution? Make your own sorbet, but replace the sugar with agave nectar. Agave nectar (sometimes called agave syrup) is a natural sweetener that is 1.4 times sweeter than white sugar, according to the Madhava company that makes the nectar. That means that you can immediately reduce the amount of sweetener needed in the recipe by 40%. To get the creamy texture, be sure to use the whole fruit instead of just fruit juice. Homemade sorbet is easy to make a treat that is delicious and healthy.
What you will need:
Fruit (or fruit juice) of your choice
Agave Nectar (or sugar)
Food processor or ice cream maker
Water (only if you are making lemon or lime sorbet)
There are two ways of making sorbet – with a food processor or an ice cream maker. To make it with a food processor, simply mix the fruit and sugar together in the food processor. Put the mixture into plastic containers and place it in the freezer. After it has frozen, take the containers out and run it back through the food processor. This will yield more of a gelato consistency with a little bit of a crunch. To use the ice cream maker, mix the fruit and sugar together, then put the mixture in the refrigerator for a couple of hours to chill. After it is chilled, transfer the mixture to the ice cream maker and let the machine do the work of mixing and freezing. This will yield a creamy consistency that melts on the tongue. My personal favorite is a combination of the two! Puree three-fourths cup of agave nectar for every cup of fresh fruit in a food processor. Then chill the mixture in the refrigerator and finish it off with the ice cream maker. By using the whole fruit, the sorbet turns out thicker, and you also get to keep all the nutrients!
The next time your sweet tooth comes calling, think of this homemade sorbet to satisfy your craving without sacrificing your diet.